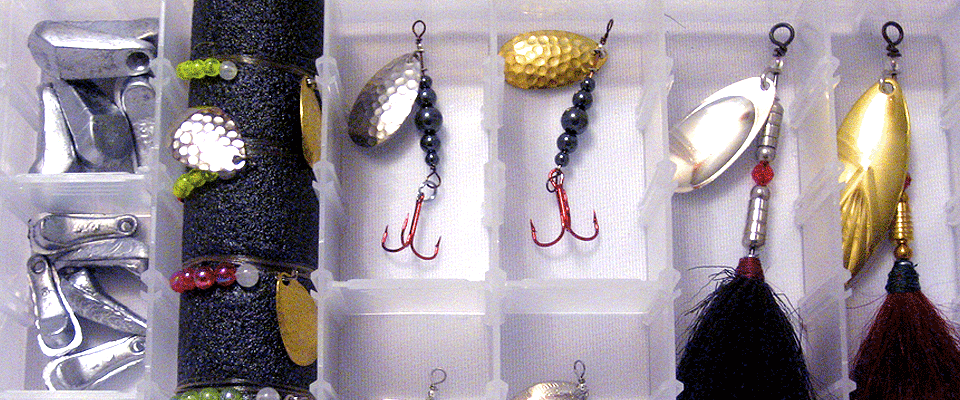 The question we are asked the most is………What tackle should I bring?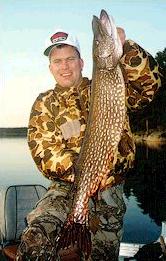 NORTHERN PIKE-Atikwa's waters are full of big northern pike. They didn't get the name WATERWOLF for nothing. 20+ pounders are caught nearly every week. We recommend a good bait cast reel (if you know how to use one) or a strong spinning reel with a 6'6″ medium/heavy-heavy rod with 10-20lb line of good quality. Good leaders are a must. The last thing you want is to have a 45″ northern up to the boat and have a cheap leader break. Our favorite lures are 1oz. spoons in five of diamonds, red/white, black/white and fire tiger. Doctor spoons are great, and a Johnson silver minnow is perfect for the weeds. #18 husky jerks, Buck tails, safety pin spinners, and my favorite-rattle traps. Also top water baits like spooks and especially buzz baits. Best colors are fire tiger, white, red, black and orange. Atikwa rule for northern is 25′ of water or less hold the fish. Deep weeds in 10-14′ of water and the rocky reefs and points off deep water later in the season hold the bigger fish. Fish your spoons deep and let them flutter in the pikes face or crash your crank baits into the rocks on the deep edges of the reefs and the big pike won't be able to resist.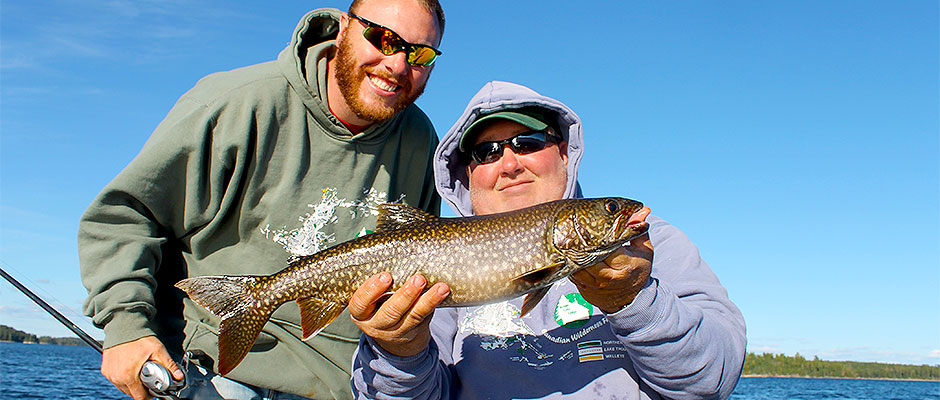 LAKE TROUT-Atikwa lake is one of the best lake trout fisheries in all of Ontario. We catch lakers ALL year long even in the dog days of summer. We recommend a good quality spinning rod (medium to medium/heavy walleye rod will do) with 8-10 lb line. The non stretch type (Fire line, spider wire, etc.) work great for jigging in deep water. It helps to set the hook on hard jawed lakers. Best lures for trolling include #9 Shad raps, Husky Jerks, Wally Divers, rattle traps and similar small crankbaits regular and deep diving. Best jigging baits by far are Diver vibe minnows by River2Sea and Heddon Sonars. Also Luhr Jensen Crippled Herrings, and tube jigs and white mr twisters. Swivel clips are necessary to connect to the line. Just about any kind of spoon will work-lil cleos, doctor spoons and canoe spoons are our favorites. Best colors are bubble gum (blue, pink, yellow) wonder bread, fire tiger, orange/gold hammered spoons, silver, white, red, black/white, perch or any combination. Bring along a Dipsy Diver, Pink lady, Deep six, Jet diver or snap weight kit to get your lure down to where the lakers are. Portable downriggers are in limited supply for rent and can really get the fish. LAKE TROUT ARE TOUGH FIGHTING FISH, GREAT TO EAT AND CAN BE GREAT FUN!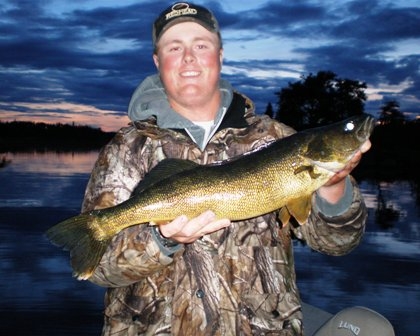 WALLEYE-Typical walleye gear will do weather you're a jig or spinner rig fisherman. Walleye can be tough on calm sunny days. You must use live bait. Minnows and crawlers work but I like large leeches the best because they live much longer. Minnows are the most likely to die prematurely. You can pick them up when you get your license at Anglers pro shop past the float plane base about 1 mile. Phil will bag and aerate them for the flight. Tell him you're going to Atikwa. We do have minnow buckets and sell leeches but not minnows.
MUSKY-Muskies are muskies, They may be hitting anything or nothing at all. Our Musky lake is a great fishery and we protect it by making it catch and release only. Many people have caught their first musky there and some people have caught several in a day. Bring your favorite musky lures, I like a good size johnson silver minnow for the weeds. Look for follows and ALWAYS figure 8 at the boat. Spend all day or just a few hours in Musky lake trying to catch the King of freshwater game fish.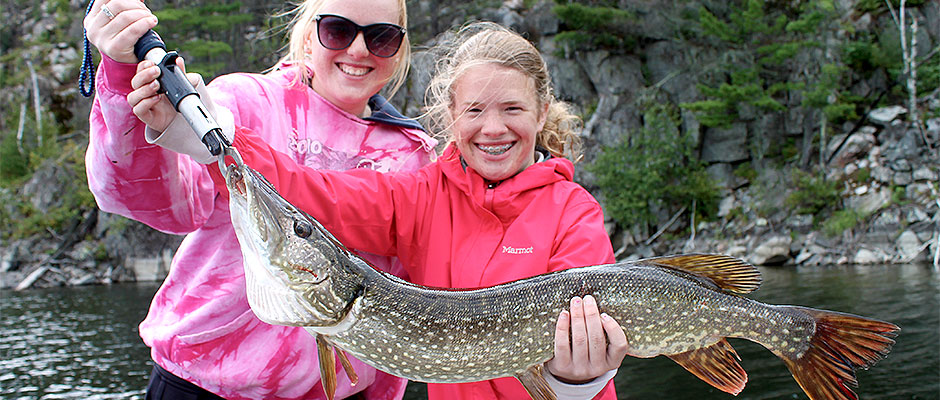 We want to stress these are recommendations only. Try different lures, be creative and you just might find the new best lure or fishing technique for Atikwa.
PLEASE BRING PROPER EQUIPMENT!!! Too many times guests show up with light, outdated tackle, small line spools, and a handful of lures that was bought in a bargain bin. Junk is junk and it's a sure way to ruin a trip.
Come prepared so you can have an enjoyable trip that you will remember forever.
Thanks,
Todd and Jake