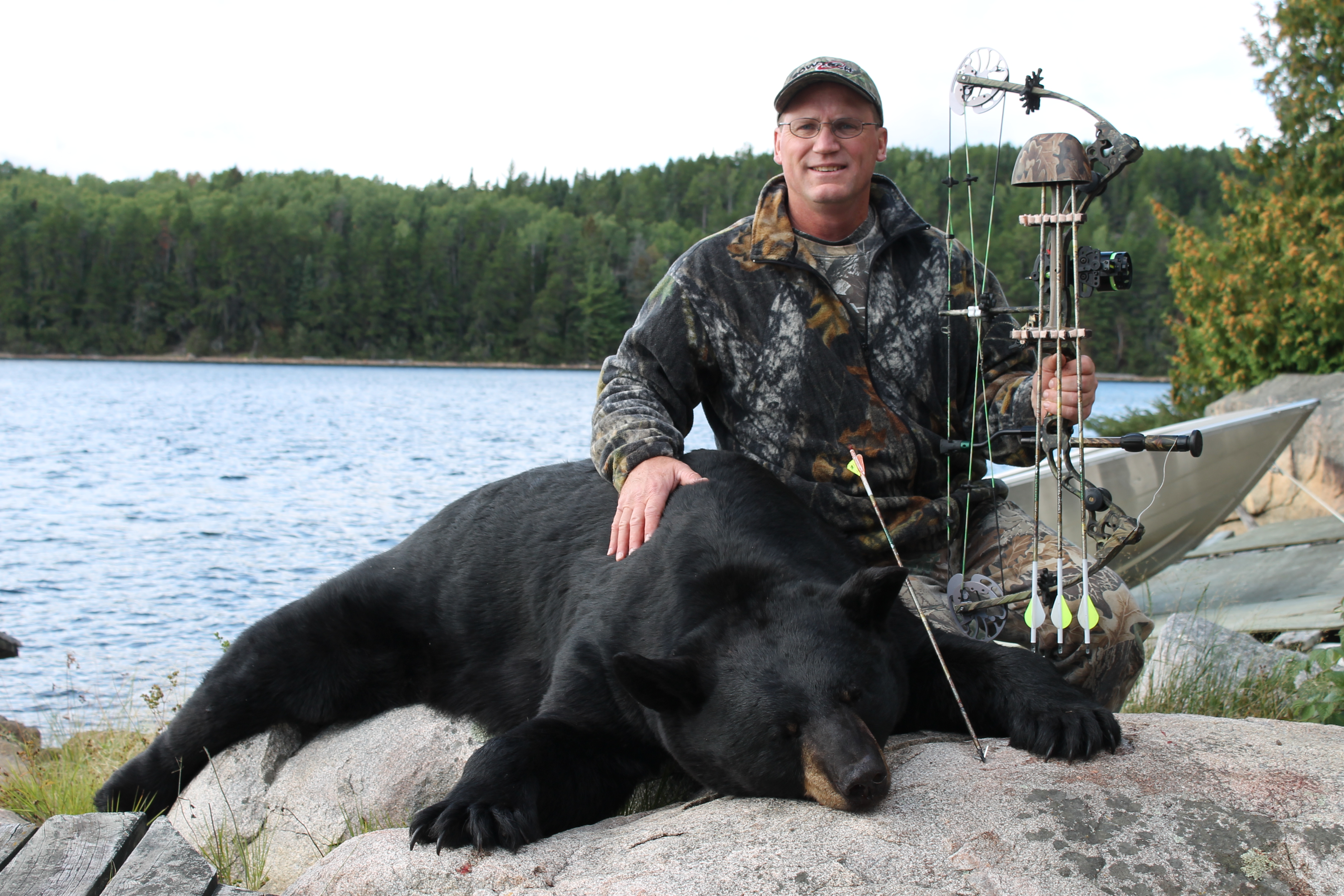 2011 was the start of bear hunting on Atikwa and we had 90% success with 100% opportunity. We just got our bear management area approved. 2010 was a test year. We started baiting in mid July and we ended up taking a 340 pound boar and saw many others on the trail cams. Some huge! The area has never been commercially hunted, so there are some monster bears in the area. We bait EVERY OTHER DAY starting in mid July. Our biggest problem is trying to get hunters to wait for the bigger bears. Just like any other trophy animal the bigger ones are smarter. The bear in our area die from old age due to almost ZERO hunting pressure. We show you on our trail cams what are shooter bears and what is not but ultimately the final harvest is up to you.
In 2012 we harvested one of the largest bear in the Nestor Falls/Kenora area at 430 pounds. In 2 years we have taken at least 4 bear that would make the Pope and Young record book. We had many color phase bear on the camera and none were taken.
In 2014 we were finally able to get beautiful cinnamon with a blond streak down his back. There were at least 3 other colored bear coming into baits.
Some more photos from our bear hunts:
2023 pricing – 7 or 4 day bear hunt includes guaranteed active bait sites with ladder stands, flight, guide to take you to and from your stand, 16′ princecraft boat with pedestal seats, electric start, electronics and all gas, cabin, food provided, hanging and weighing of bear, help with tracking and removal of bear.
Does not include – license, (can be purchased at anglers pro shop in nestor falls) bear processing fee (fly out bear to be picked up, processed to your order, skinned and frozen for taking home – $250.00 + whatever processing package you decide on)
Package Price – $2900.00 for 7day hunt plus tax
---
New Package Price – $2000 for Monday to Friday hunt plus tax
REMEMBER THERE ARE SOME CHEAPER PRICES OUT THERE BUT THIS IS A REMOTE, FLY IN, WILDERNESS HUNT DONE EXCLUSIVELY BY BOAT BUT YET THE CAMP STILL HAS 24 HOUR ELECTRICITY AND EVERYTHING YOU NEED FOR YOUR COMFORT. FLIGHT COSTS MAKE IT HIGHER PRICED BUT GETS YOU TO WHERE THE BIG BEARS ARE AND AWAY FROM EVERYONE ELSE. WE ARE DIE HARD HUNTERS OURSELVES AND DO NOT DO BEAR HUNTING JUST AS A SIDELINE TO FISHING LIKE MOST CAMPS DO. Your Guides,
Todd and Jake
Kill a bear and we'll be happy to sit up in the lodge after the hunt and pass around the Schnapps with you!